Laura Silver's Straw Bale
House —
I took over as Project Manager and Job-Site Supervisor early in construction and completed the first phase of construction in 2004.
The second phase will come when the owner has funds. It consists of an arbor on the south and east facing walls, an enclosed courtyard at the front entrance, and a screened porch running the length of the back of the house.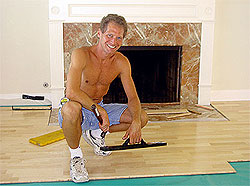 Hung Tran's Flooring
Upgrade —
Maple laminate (pre-finished, engineered hardwood) with a 'natural' color finish replaced wall-to-wall carpeting in the living room, dining room, master bedroom (with walk-in closet,) and the remaining two bedrooms. The green material you see in the photos is the vapor barrier/cushion that was placed over the concrete slab after the carpet was removed.